CSC 0.3% Retinol Serum With Q10 For Face For Anti-Aging - 30ml
Regular price
Rs. 1,499.00
Sale price
Rs. 299.00
Unit price
per
Sale
Sold out
About This Item

• Effective Anti-Aging Treatment: CSC 0.3% Retinol Serum With Q10 is a highly effective anti-aging treatment designed to reduce the appearance of fine lines, wrinkles, and other signs of aging on the skin. With a potent concentration of 0.3% retinol and Q10, this serum is perfect for those looking to achieve a more youthful-looking complexion.

• Suitable for All Skin Types: CSC 0.3% Retinol Serum With Q10 is suitable for all skin types, including sensitive skin. It is a lightweight and non-greasy serum that is easily absorbed by the skin, leaving it feeling smooth and hydrated.

• Helps to Boost Collagen Production: Retinol is a powerful ingredient that helps to boost collagen production in the skin, which is essential for maintaining a youthful-looking complexion. Q10 is also an important antioxidant that helps to protect the skin from free radical damage.

• Easy to Use: This serum is easy to incorporate into your daily skincare routine. Simply apply a few drops to your face after cleansing and toning, and gently massage it into your skin. Use it at night only for the best results. Use broad-spectrum sunscreen the morning after.

• High-Quality Formula: CSC 0.3% Retinol Serum with Q10 is made with high-quality ingredients and is free from harsh chemicals such as parabens, and sulfates. It is also cruelty-free making it a great choice for those who want to use ethical and sustainable skincare products.

Share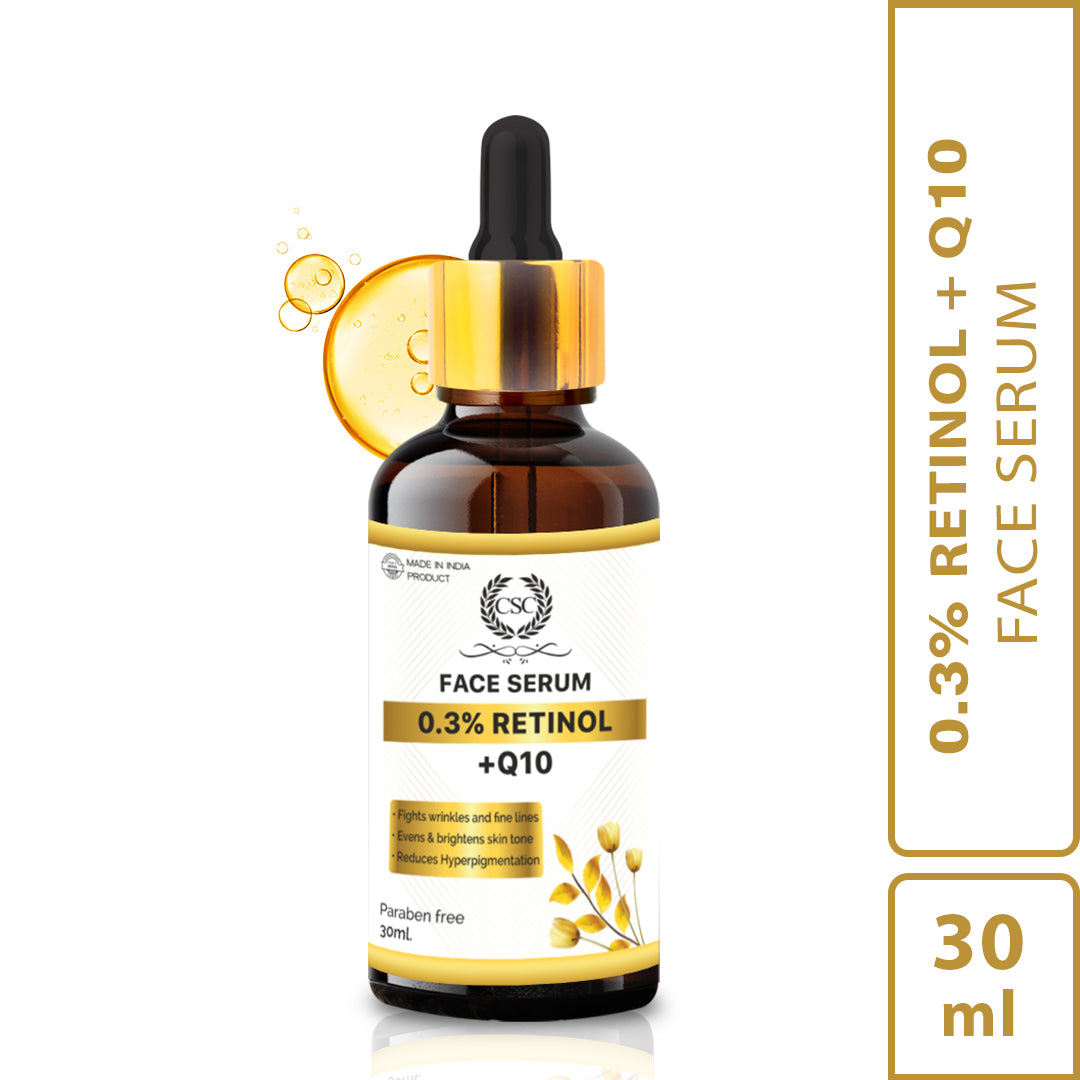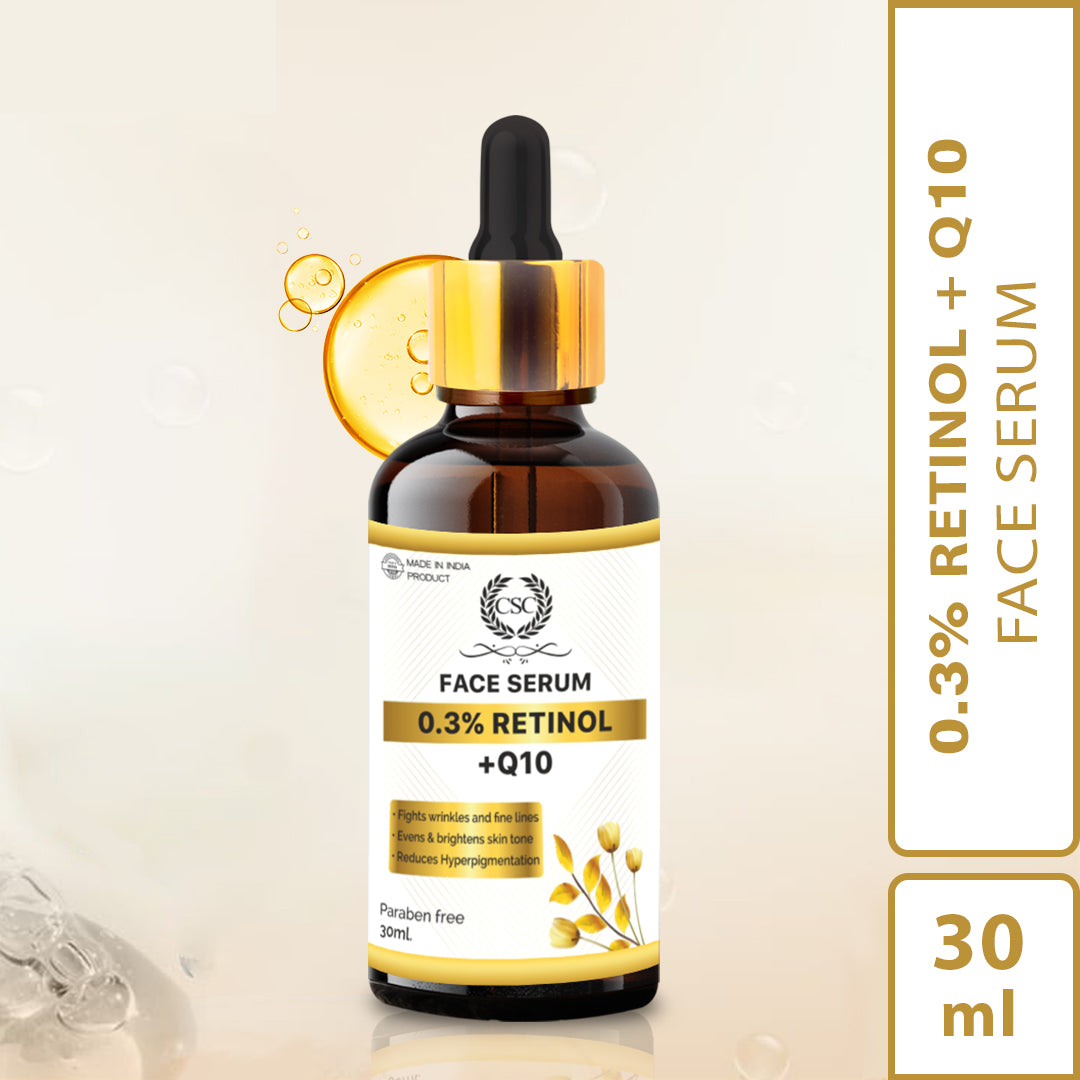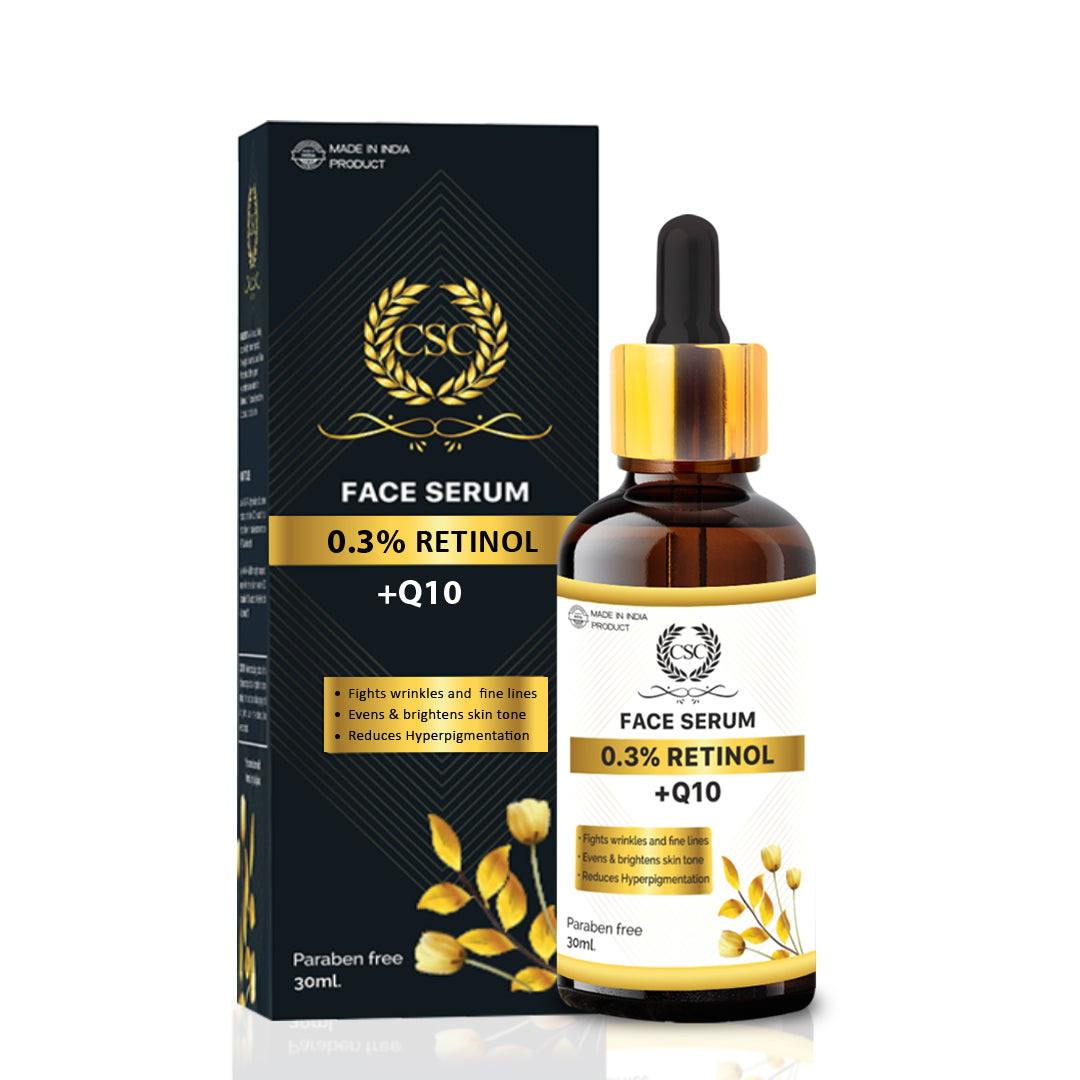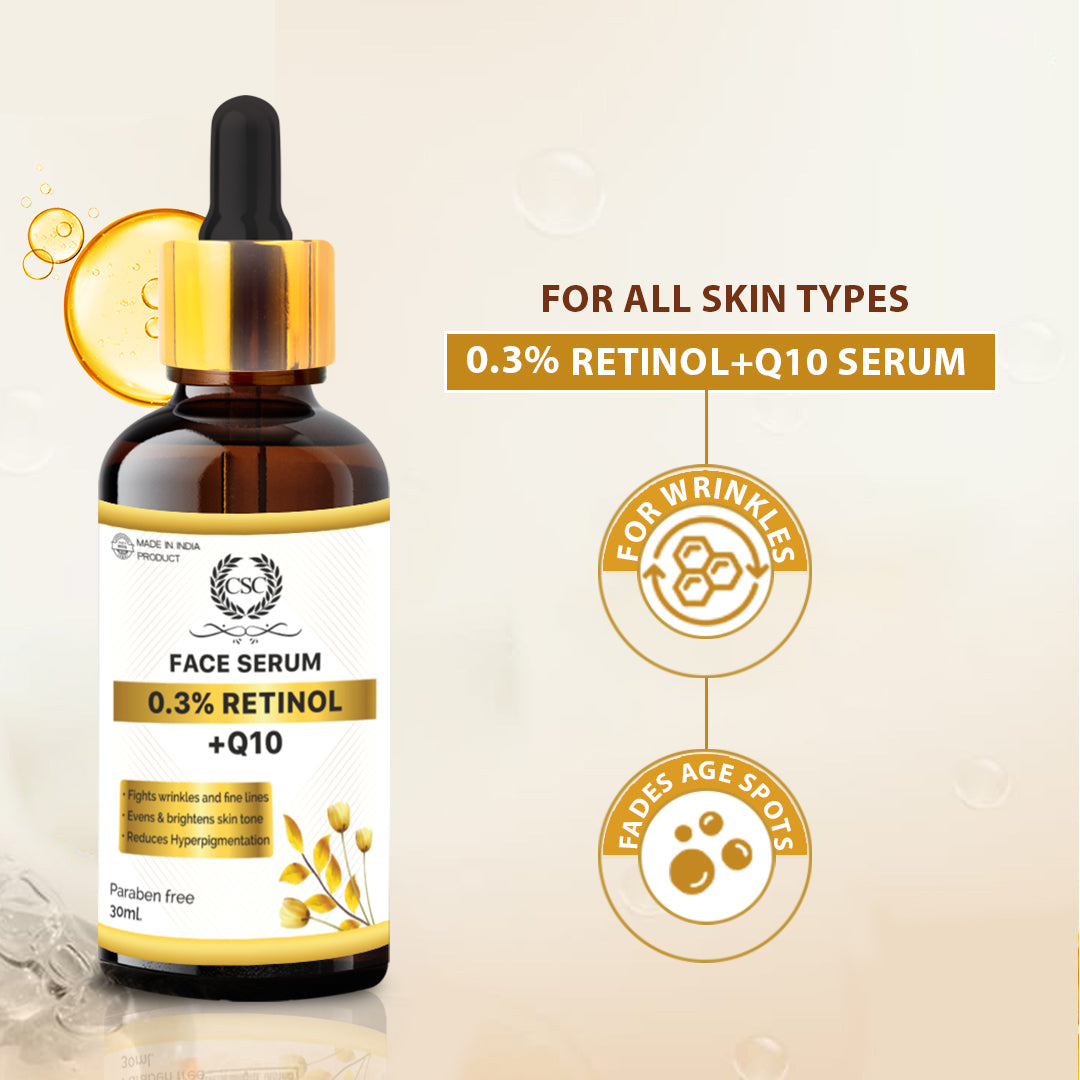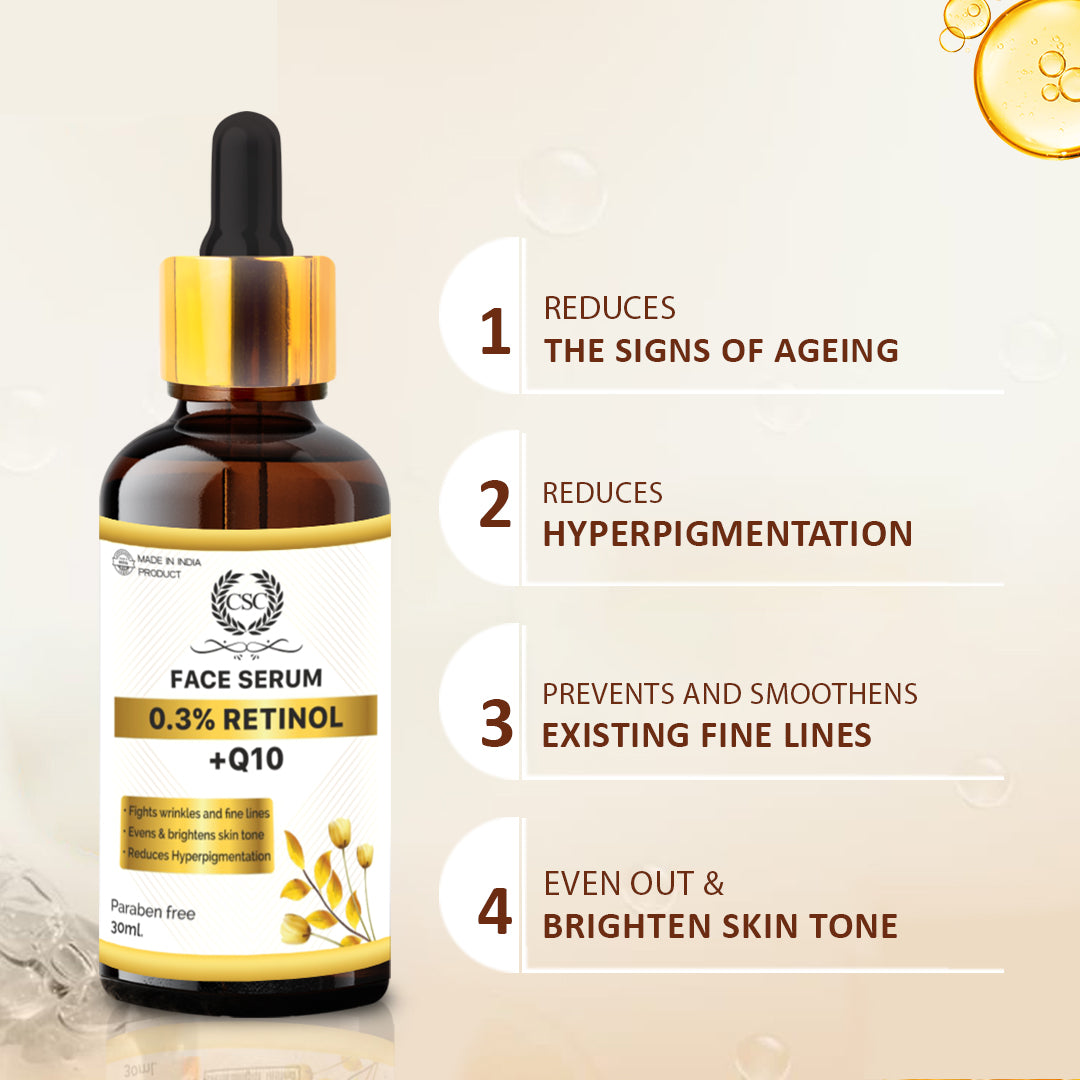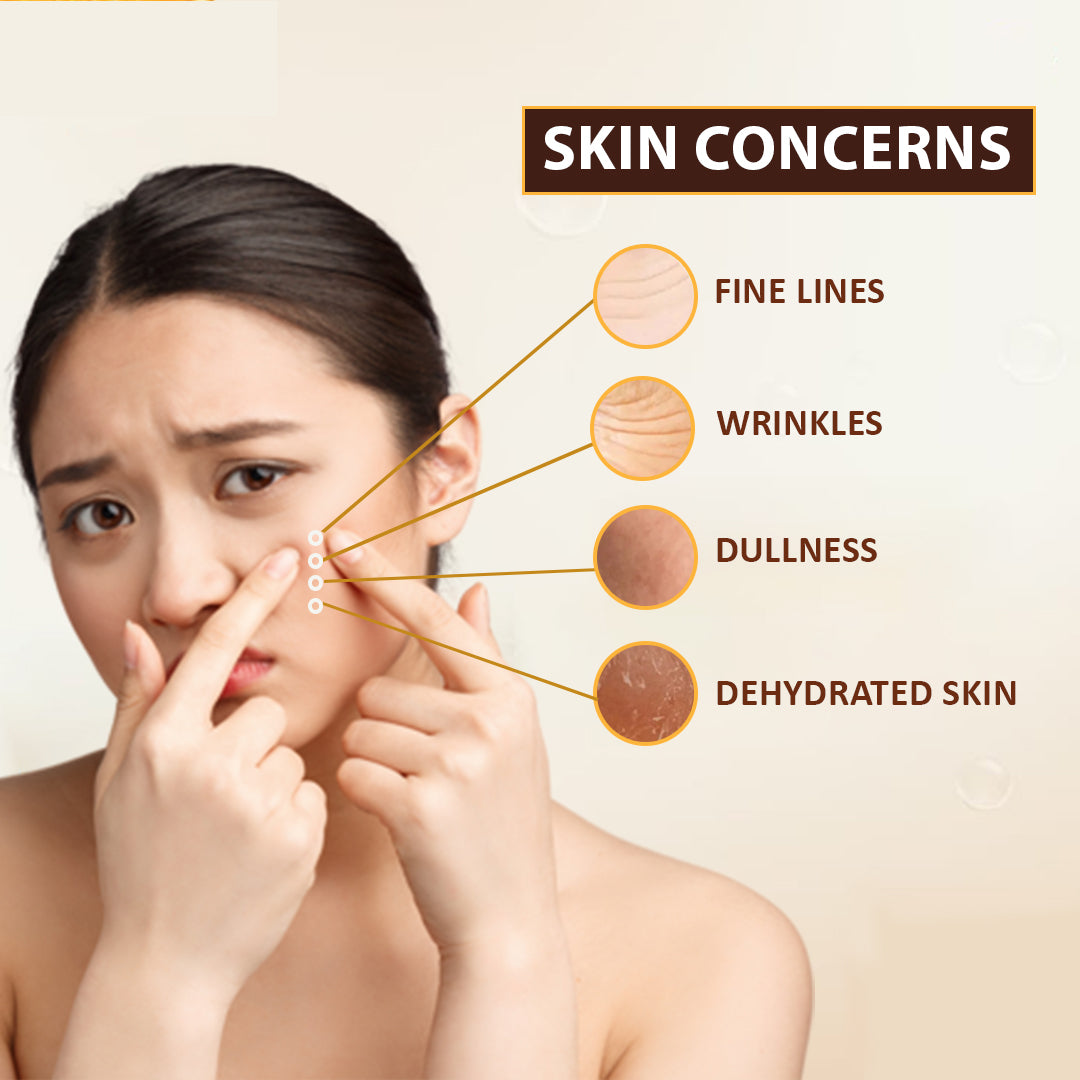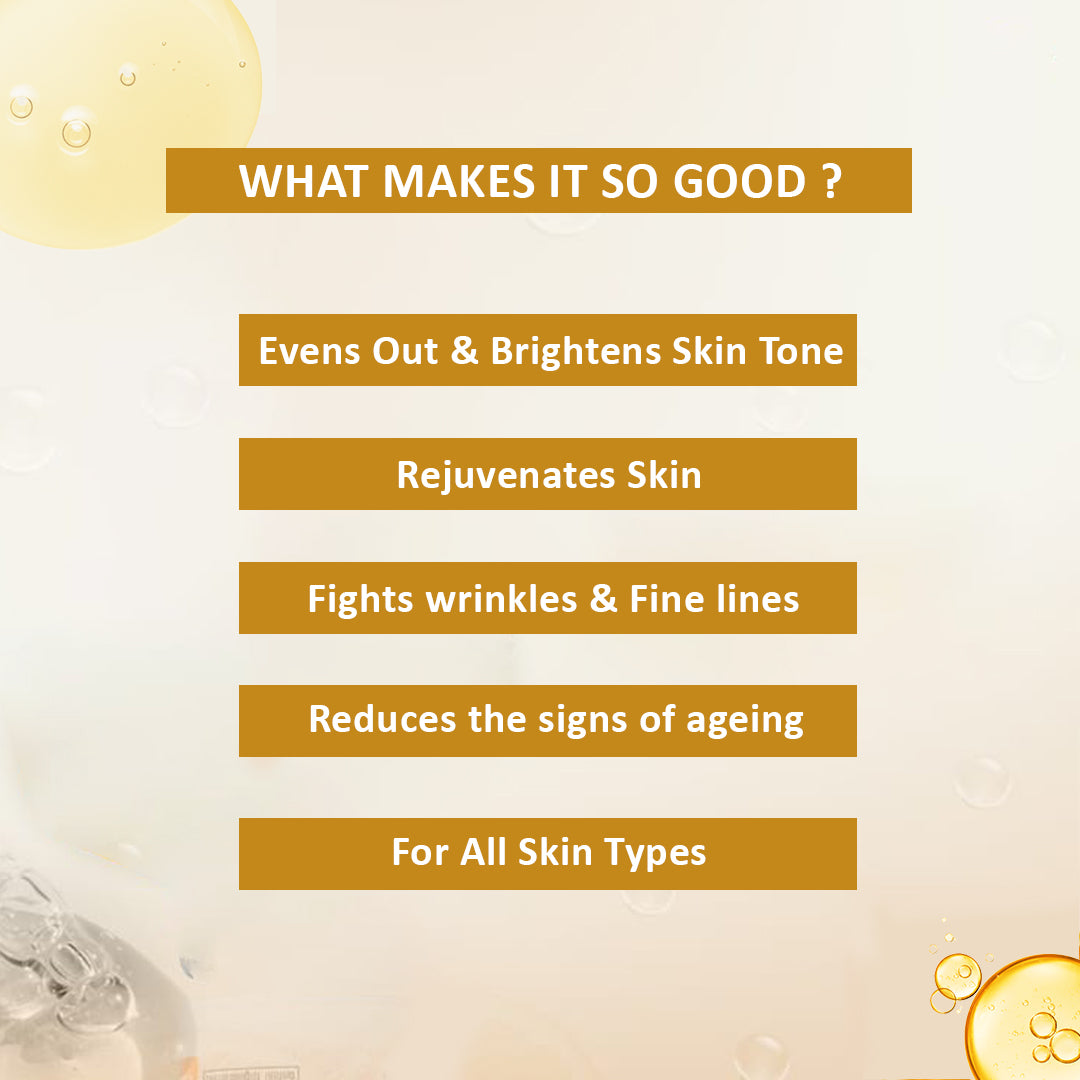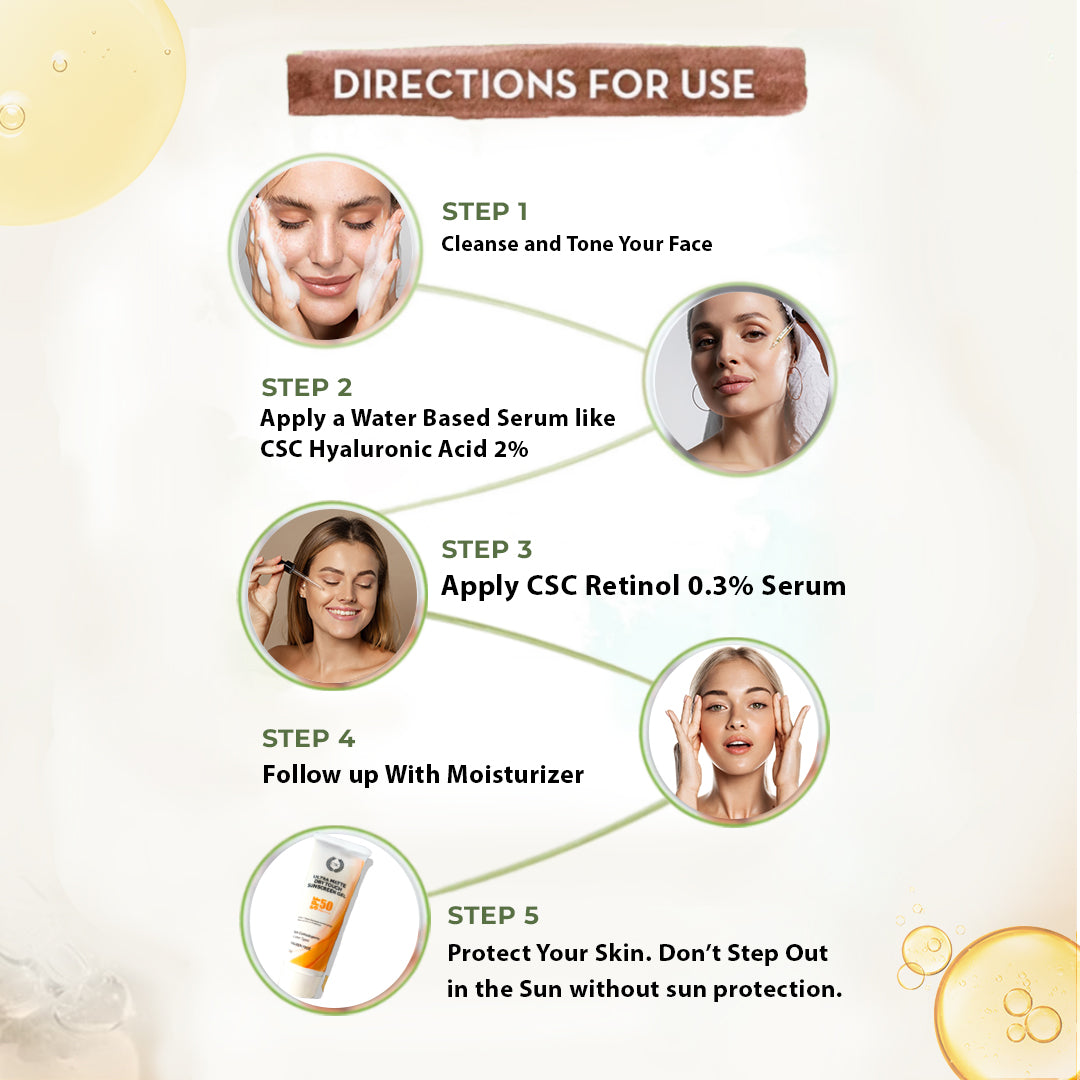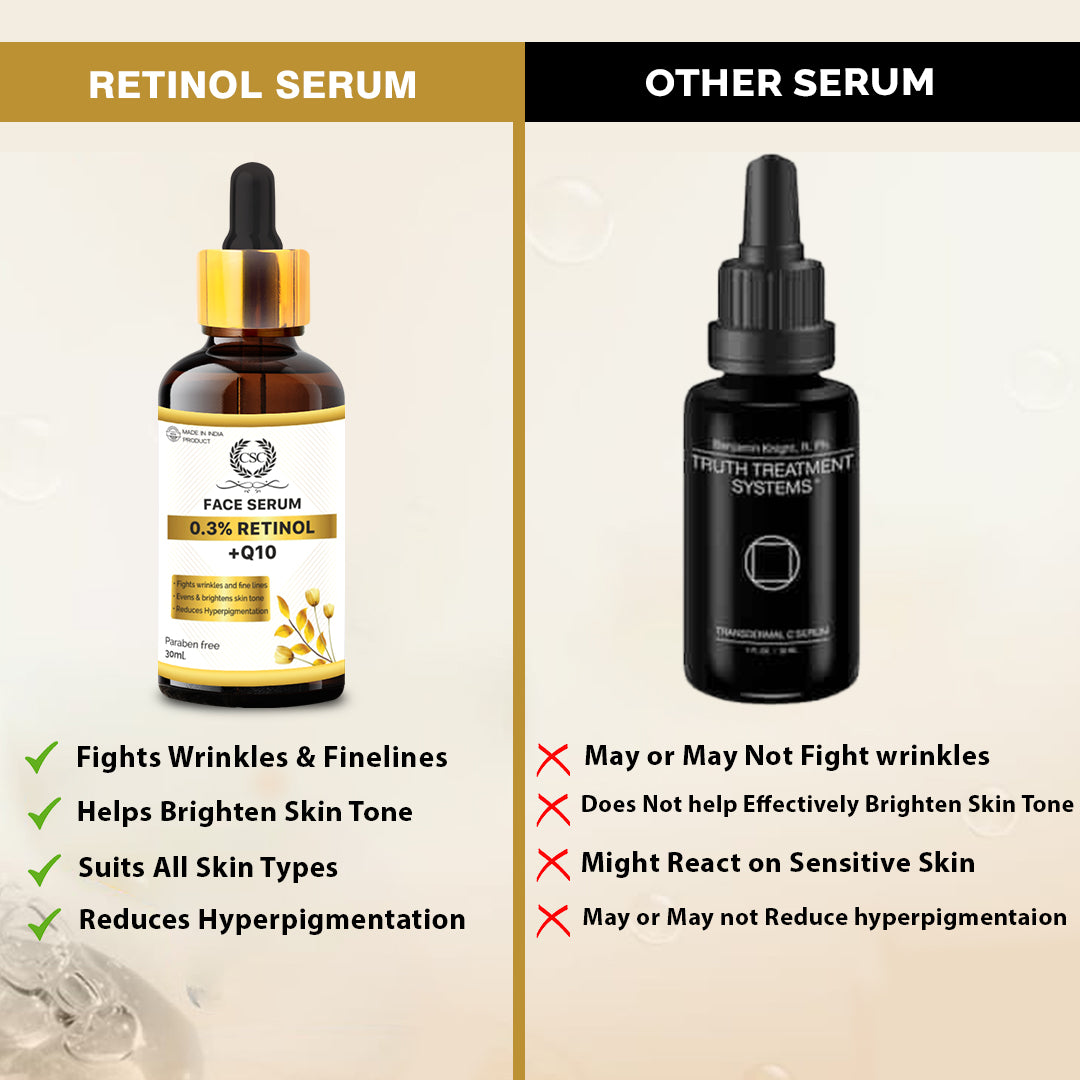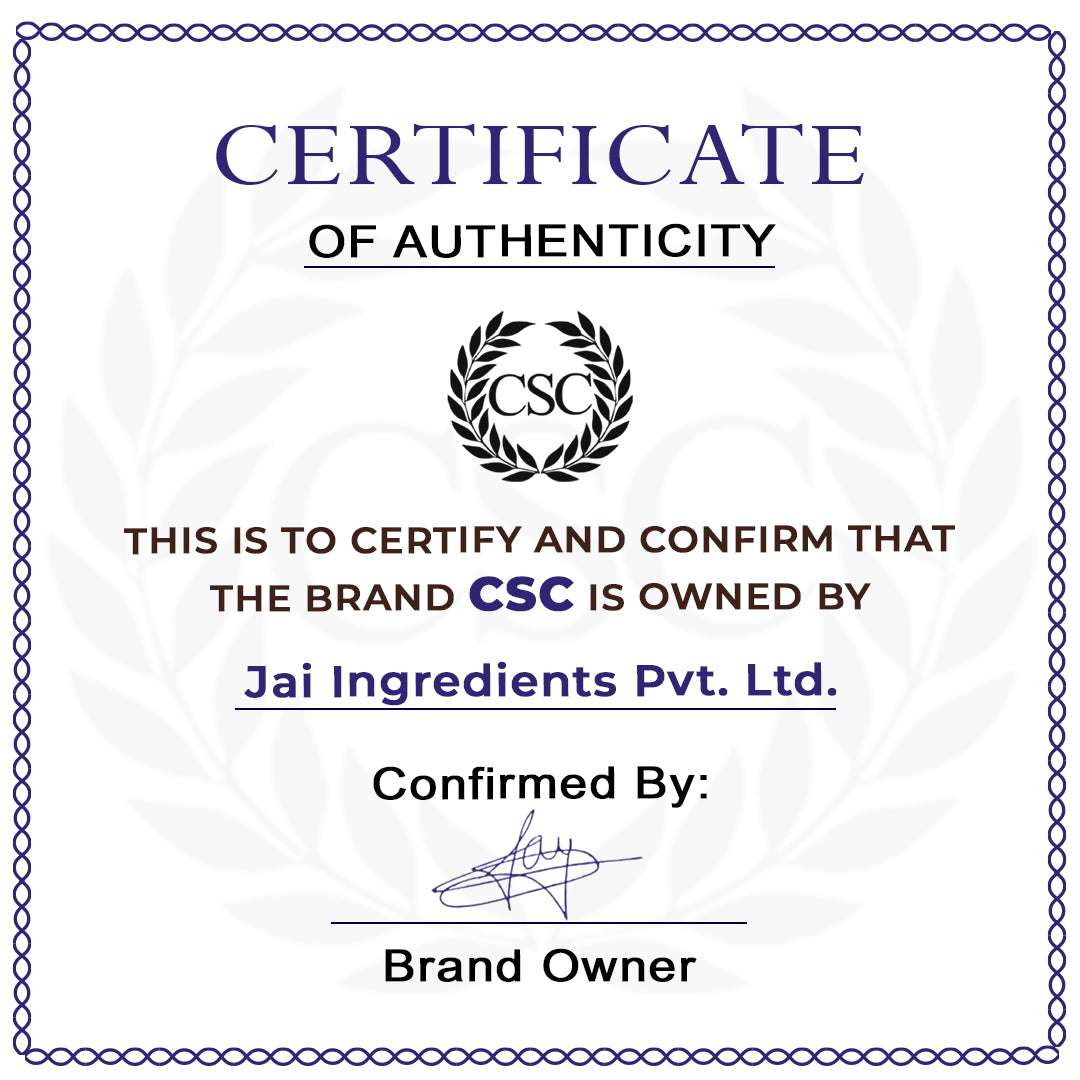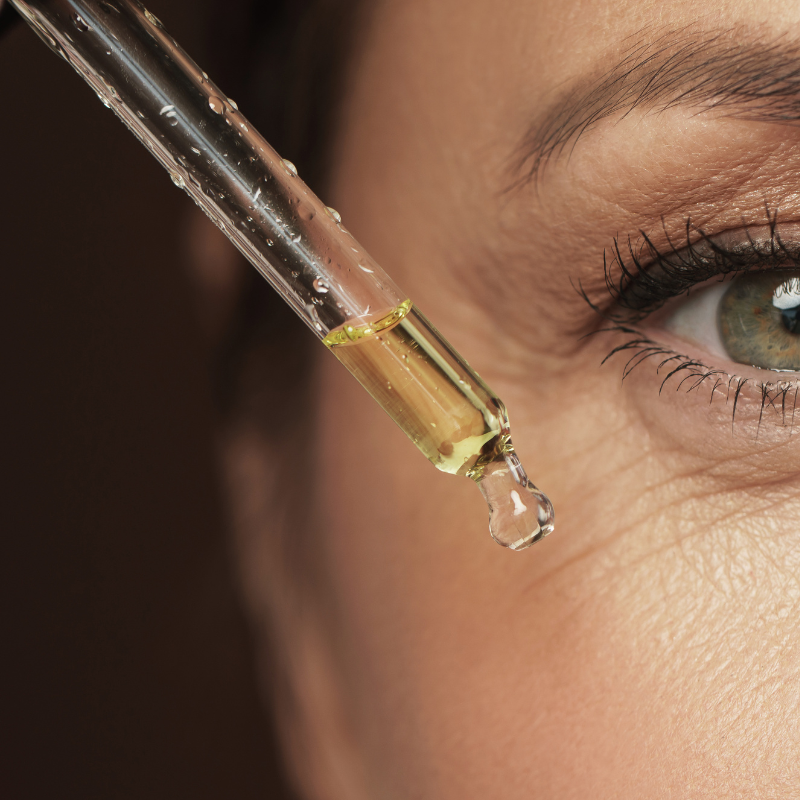 How To Use?
USE PM ONLY

Step 1: Cleanse your face
Step 2: Apply a water based serum like CSC Hyaluronic Acid 2%
Step 3: Moisturize
Step 4: Apply CSC Retinol 0.3% serum
Step 5: Follow it up with broad spectrum sunscreen SPF30+ the morning after

Start with 2-3 times per week and increase gradually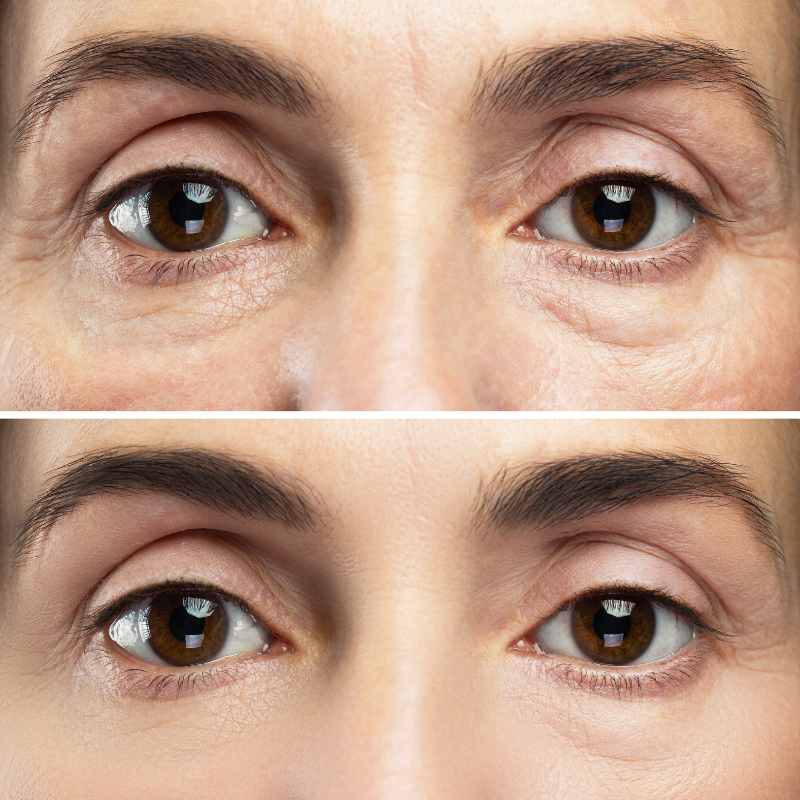 What's in it?
Retinol, Squalane, Caprylic/ Capric Triglyceride, Coco-Caprylate/Caprate, Bakuchiol, Polysorbate 20, Ubiquinone (Coenzyme Q10), Tocopherol Acetate, BHT.
Perfect for my skin
I'm using this product for above 3 months I'm getting good results My skin is so clear and it's a perfect to purchase
Love this serum
I am using this product since 1 month with alternate nights and it just turned out to be magical on my skin.
In the beginning, my skin started purging which make me reluctant to use it but then I dint stopped there..I continued it making my skin adjust to the product..
And after sometime..my skin started to show results.
My skin has slightly started to peel off the dirt layer making it clean.
Overall I loved the product.
Very Good Serum!
As with all good things, so too with this serum. You have to wait for a while but you will see results... and you will definitely want to buy this serum again. Skin is less oily, clear and blemish free, break outs are less.
Good Product!
Before using any skin products we have to supply the essential nutrients a body needs so that it will work effectively. It means carb, fat plus most importantly the right amount of protein and of course 6 to 8 glass of water and fruits vegetables and greens for vitamins and micronutrients. If we take this everyday properly and use the skin products it will surely work wonderfully otherwise any skin product is a waste of money.
Effective if you have a balanced diet
If your skin is dull dead type use it at night before going to bed wash it next day withing 3 4 weeks your are beautiful (aab ya mat samajna k hero ya heroin bana dega par ha it works